New York's Best New Buildings
from New York Post
by Zachary Kussin
Hunting season has officially begun.
House hunting, that is.
Thanks to a number of condo, rental and co-op buildings launching sales and leasing this spring and summer, New Yorkers on the prowl for a bigger and better habitat have a range of spiffy options to browse.
Among the newcomers, distinct themes emerge.
Some buildings come designed by some of the world's most famous architects, while others command attention with unusually striking facades. Some will scrape the sky, while others are cropping up in areas farther from Manhattan's core. Whatever your budget or taste, there's something for everyone.
Here, The Post rounds up the four trends in new development making waves across town.
Trend 1: Totally out-there architecture
Don't judge a book by its cover, but you can judge a building by its facade.
The 88 Withers St. condo in Williamsburg has a flamboyantly cantilevered exterior, crafted by RYBAK Development and BK Developers (contact: Corcoran, 917-968-4394). Its one- to three-bedroom pads have prices from $795,025.
This building is one of many hitting the market whose designs attract prospective residents looking for serious curb appeal.
Another is the 252-unit 416 Kent Ave. rental in Williamsburg, part of the 420 Kent Ave. complex, that launches in July from $2,350 for a studio (contact: Citi Habitats New Developments, 212-685-7777). Designed by Eran Chen's firm ODA, these glassy properties will front the East River.
"We wanted to build something almost lyrical to serve as the gateway to Williamsburg," says Chen.
Another ODA project is 150 E. 23rd St., which sports a delightfully random array of windows; its 51 condos will start at $1.07 million (contact: Cantor Pecorella, 212-776-1350).
In Jersey City, architect Hollwich Kushner — alongside developer KRE Group — created a zig-zagged gap in the middle of the 397-unit 485 Marin rental (from $2,350 for a studio), which launches in May (contact: The Marketing Directors, 201-834-0624). That opening, according to Hollwich Kushner co-founder Matthias Hollwich, opens the building to the surrounding neighborhood.
This spring also sees the launch of Glassworks Bushwick, a rental by ASH NYC with 63 dwellings (one-bedrooms from $2,500). It merges a former glassworks factory with modern additions to create a "more intimate and human scale rather than a massive development," says ASH's Ari Heckman (contact: EXR, 718-255-9800.)
Others make a statement — literally. Atop Torkian Group's 42 W. 33rd St. Solari rental, a recess under the roof-level amenity deck allowed architect Stephen B. Jacobs to create a multicolored installation of LED lights (contact: The Torkian Group: 646-692-3326).
"We want to have our own spot on the skyline," says Jacobs.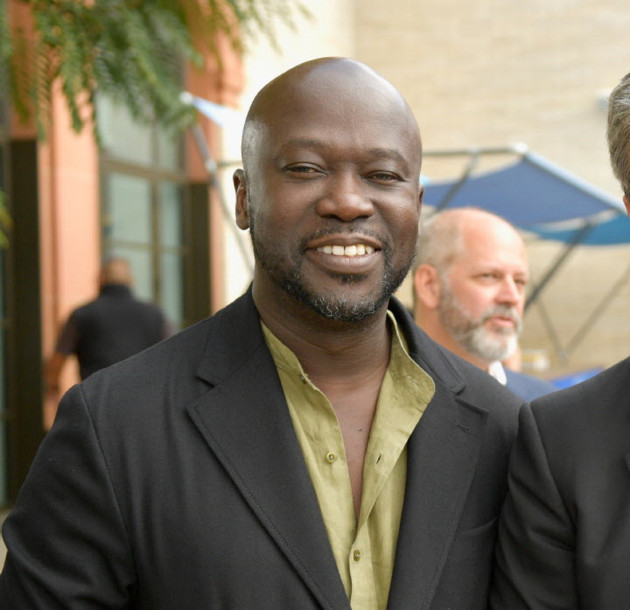 Trend 2: Starchitects in the sky
A year and a half after the opening of his acclaimed National Museum of African American History and Culture in Washington, DC, David Adjaye is back at it — designing his first Big Apple condo.
Adjaye's 244-unit 130 William St. will have studios to five-bedrooms, with prices from around $1 million. Developed by Lightstone, the 66-story building's amenities will include a private IMAX theater. U-shaped loggias scale the facade (contact: Corcoran Sunshine Marketing Group, 212-433-3130).
He's just one "starchitect" behind the city's residential newcomers.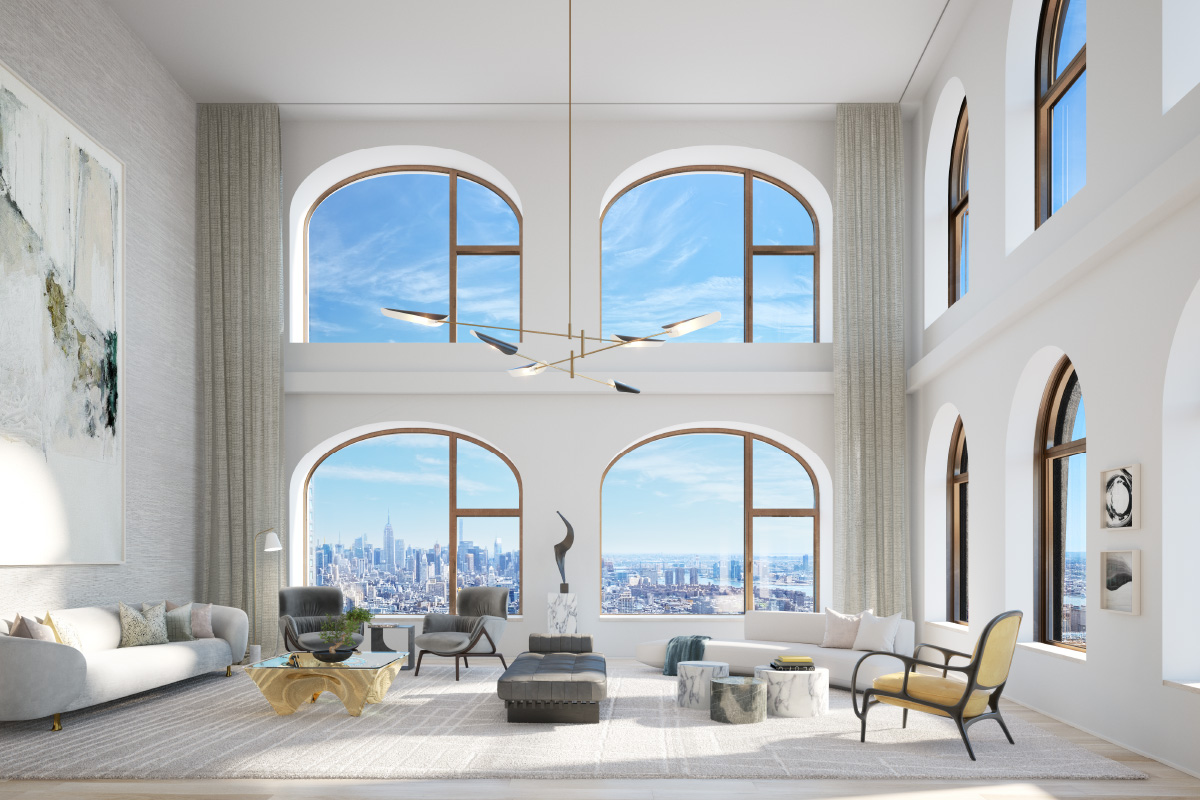 Architect Bjarke Ingels is bringing his first condo/hotel to New York at 76 11th Ave. alongside HFZ Capital. The development, dubbed the XI (the Eleventh), has a total of 236 dwellings in its residential portion, with prices from $2.8 million for a one-bedroom (contact: Douglas Elliman Development Marketing, contact: TheXI.com).
HFZ also teamed up with Robert A.M. Stern's firm to convert the Upper West Side's Belnord rental into tony condos. Prices for its 80 homes from $3.77 million for a two-bedroom (contact: Douglas Elliman Development Marketing, TheBelnord.com).
Meanwhile, the firm helmed by Richard Meier is working on Solow Building Company's 685 First Ave. Its 148 condos, from one- to four-bedrooms, hit the market last month from $1.49 million. Residents also get a lap pool (contact: Citi Habitats New Developments, 212-685-7200).
Trend 3: Buildings big and tall
House hunters on the prowl for sky-high living have a range of towers to choose from.
One of them, Extell's just-launched Brooklyn Point in Downtown Brooklyn — a 720-foot megalith designed by Kohn Pedersen Fox — capitalized on its stature to create its prized amenity: the Western Hemisphere's highest residential rooftop infinity pool (from $897,600 for a studio; contact: Extell, 718-222-5770). Located 68 stories above ground, this retreat — which will also have dining areas, a sun deck and a movie screen — also has killer Manhattan vistas.
Similarly, a "sky lounge" will cap the 64-story 19 Dutch — a 483-unit rental in the Financial District whose team includes Carmel Partners Architects, GKV Architects and SLCE Architects. Pricing there will begin in the low $3,000s per month; beyond an indoor lounge and an outdoor terrace with river and city views, tenants can enjoy their pads' floor-to-ceiling windows (contact: Douglas Elliman Development Marketing, 212-233-8824).
If now is too soon for that deluxe apartment in the sky, ARO — the 62-story, Roseland Ballroom-replacing rental in Midtown — is expected to kick off leasing this summer. Developed by Algin Management and designed by CetraRuddy, this curvy tower will have dwellings with floor-to-ceiling windows and 10-foot ceilings; amenities include a roof-level pool (from around $2,800 for a studio; contact: Triumph Property Group 212-481-5353).
Meanwhile, what the 44-story 606W57 lacks in height, it makes up for in girth. This just-launched Midtown rental houses a whopping 1,028 units (from $2,775 for a studio; contact: TF Cornerstone: 212-672-2100). Fittingly, it packs tons of amenities: a full court for basketball, a coworking space, a dog-grooming room, indoor/outdoor lounges and more.
Trend 4: Outer-borough options
Living in the thick of the city doesn't suit everyone's fancy — or budget. So consider the city's farther-flung areas instead.
In Brooklyn's Gravesend, the Jade Condominiums kick off sales this month from $438,000 for a one-bedroom (contact: Corcoran, 917-968-4394). The 30 units at 1418 W. Fourth St. share a roof lounge and gym.
House hunters on the prowl in Flatbush can make their way to the 20-unit 3311 Newkirk Ave., which recently launched sales (contact: Citi Habitats New Developments, 718-384-5304). Pricing begins at $535,000 for a two-bedroom, per StreetEasy; homes feature open kitchens and heated bathroom floors. Nearby 345 Lenox Road, a 22-unit condo, will start at $499,000 for a one-bedroom (contact: Corcoran, 718-422-2512). There, amenities include a gym.
In the Bronx, there's Skyview Riverdale — a three-tower co-op complex where developers Myles J. Horn and ABC Properties bought and renovated 30 sponsor units. Those homes now boast wide-plank floors and stainless-steel appliances. Sales launched in February from $304,750 for a one-bedroom (contact: Halstead Real Estate, 718-878-1779). Perks include a 101-foot pool.
---