New York Architects Ditch "Default" Glass Facades for Brick, Stone and Copper
from Dezeen
by Eleanor Gibson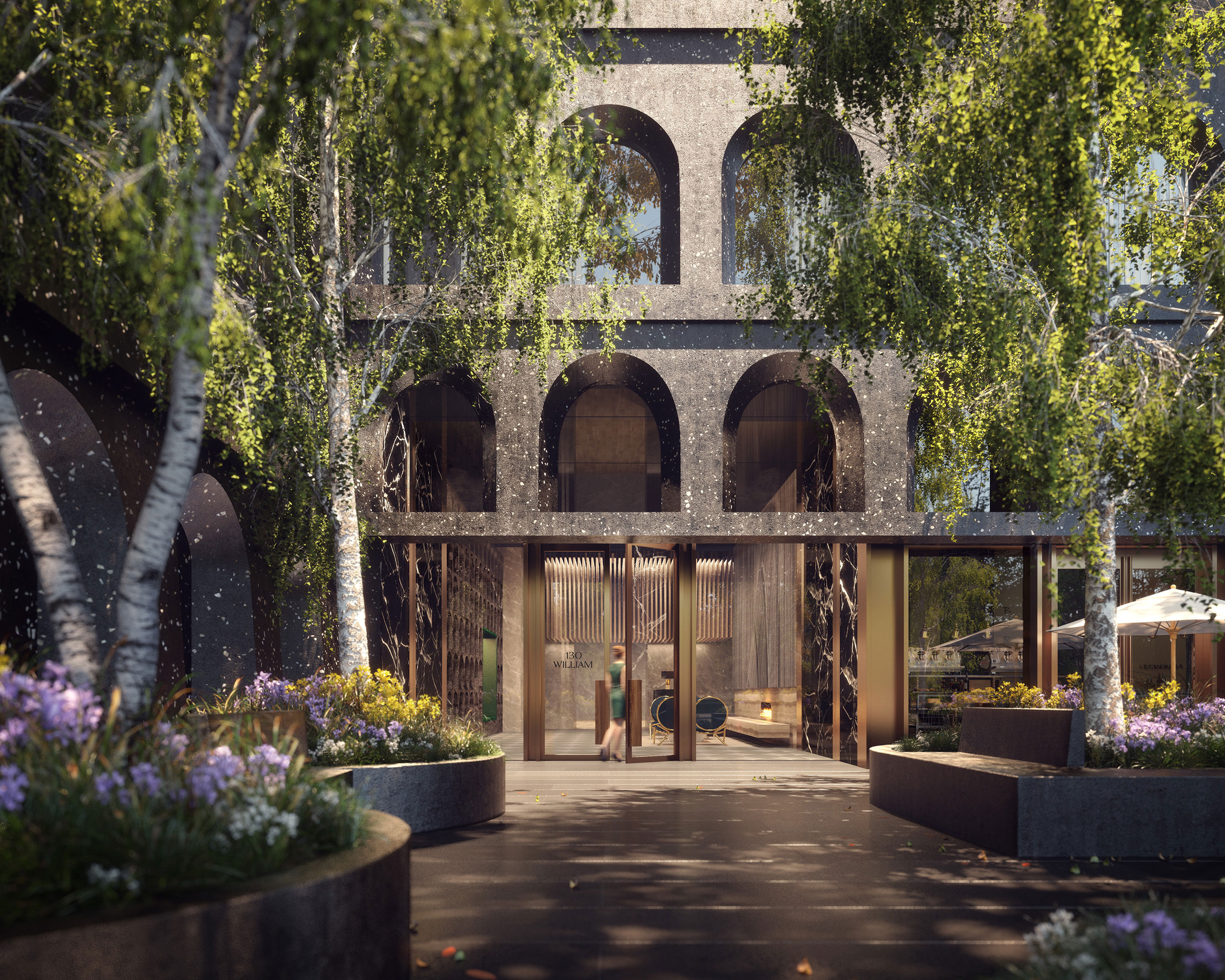 Architects in New York are returning to stone and other solid-looking materials to cover their towers, after years of glass dominating skyscraper construction in the City.
SHoP Architects' Gregg Pasquarelli – the design principal behind a pair of copper-clad skyscrapers completed last year beside the East River – believes that glazing has become too obvious as a choice for architects and developers, and that it is quickly going out of Style.
"Blue glass is the pleated khaki of facades," Pasquarelli told Dezeen. "While some are spectacular, many glass facades have become a default design solution, usually when the client or the architect is out of ideas."
"These buildings often make bad neighbours, and are difficult to furnish or to hang art in your home," he added.
"Simple glass boxes" become passé
Over the past two decades, New York skyscrapers have predominantly shared a similar aesthetic thanks to blue glass used to sheathe them.
Nearly all the towers in the clusters around the World Trade Center, Times Square and Hudson Yards – as well as many elsewhere in the city – are wrapped in textureless panels that reflect their surroundings and allow in ample natural light.
But a series of recent proposals across Manhattan and Brooklyn is signalling a move away from stark glazing in favour of masonry, concrete and metal – harking back to New York's golden age of skyscraper design during the early 20th century.
John Cetra, whose firm CetraRuddy is building Lower Manhattan's tallest residential skyscraper, agrees that the days of glass as the default option are passing.
"Simple glass boxes never took a referential approach to the site; they're superimposed onto the context, rather than growing thoughtfully out of it," said Cetra. "That approach is changing now, and the mood is that buildings can, and have to, respond to the environment and to their surroundings."
New York City's historic masonry high-rises influence new designs
CetraRuddy's supertall tower at 45 Broad Street will be covered with a decorative bronze latticework that is intended to reference the surrounding art deco architecture.
"The impact of going beyond a texture-less, flat design can be huge – it's the difference between a building that feels full of vitality and life, and one that feels sterile," Cetra told Dezeen.
Several other firms are also turning to New York's rich architectural heritage for design references, from the art deco towers built between the 1920s and 1940s – such as the Empire State Building and Chrysler Building – to later postmodern designs like Philip Johnson's AT&T Building.
American development and design firm DDG is planning to clad a condominium tower in the Upper East Side with 594,443 bricks in varying shades of grey, taking cues from the surrounding pre-war architecture.
"The hand-laid brickwork celebrates a craft that remains timeless," the firm's founding member Peter Guthrie told Dezeen.
"Glass is a beautiful building material and in the right hands can be used to great effect," he continued, "but there will always be an appreciation for the craft and solidity of a finely detailed brick building."
Concrete is also proving a popular alternative to glass, as demonstrated by British architect David Adjaye's first New York skyscraper and a scalloped concrete condo tower that US firm Studio Gang recently unveiled for Brooklyn.
"It's an interest of ours to establish a relationship between the inside of the building and the outside, to create an architectural character that exists inside and outside and gives the whole project a sense of place," Studio Gang's Weston Walker told Dezeen.
Solid materials offer better eco-credentials
Walker, who is leading the 11 Hoyt development, explained that the transition from glass back to other materials is a result of architecture firms becoming more environmentally
conscious. The hardier materials providing better insulation than glass, and improving the building's energy performance.
"That's something that the design community has been embracing, our firm has been looking at this as a rich source of inspiration for facade design," he said.
This is just the start, according to Walker, as changes in building regulations are set to further tighten architects' design choices.
"It's also something that is becoming more and more embedded into building code," he said. "You'll see buildings going in this direction in the future for that reason."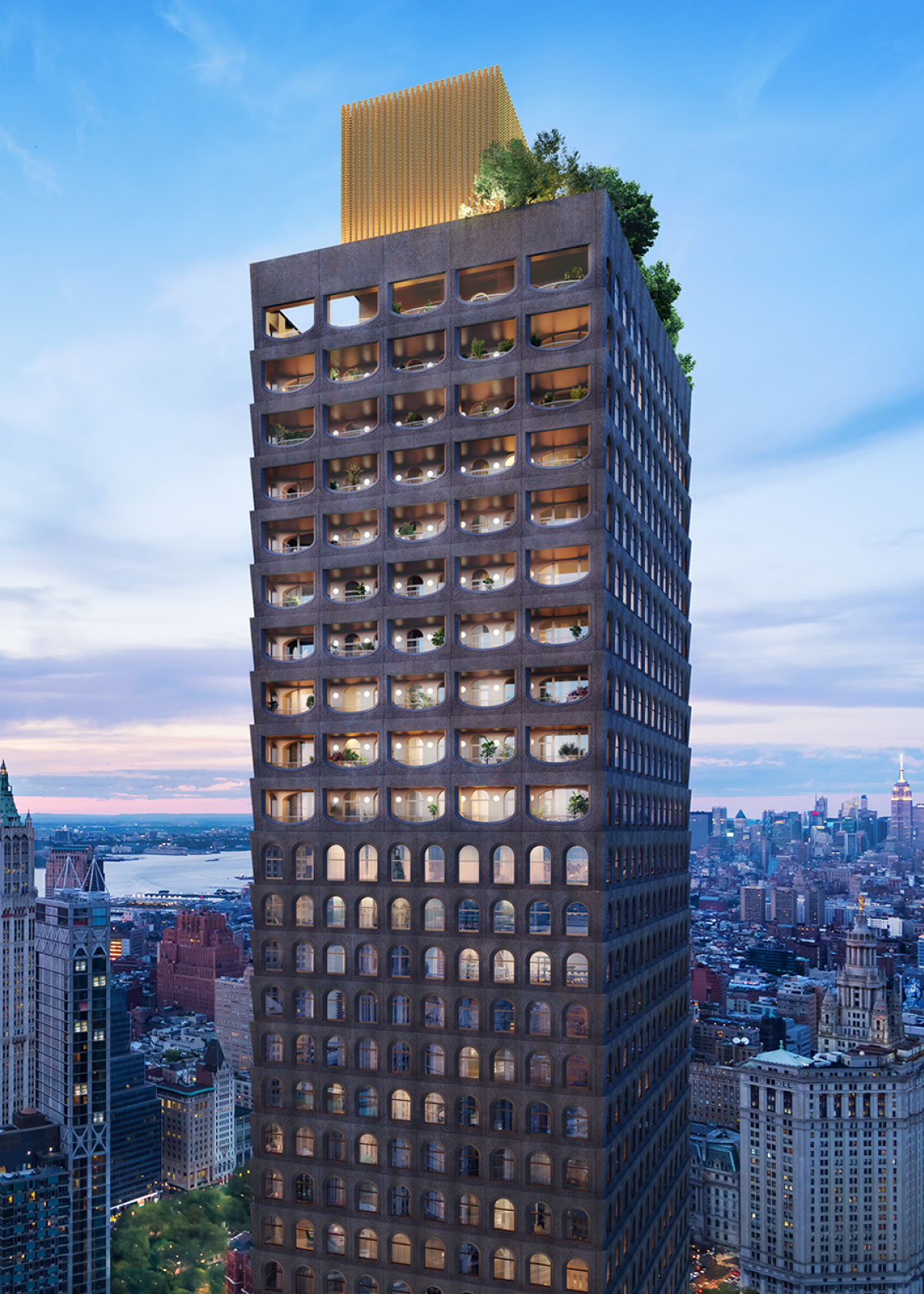 Dark and roughly textured hand-cast concrete will cover the exterior of David Adjaye's 130 William skyscraper set to be built ion one of Manhattan's earliest streets.
"Understanding that rich history, I was inspired to craft a building that turns away from the commercial feel of glass and that instead celebrates New York's heritage of masonry architecture with a distinctive presence in Manhattan's skyline," said Adjaye in a statement.
---