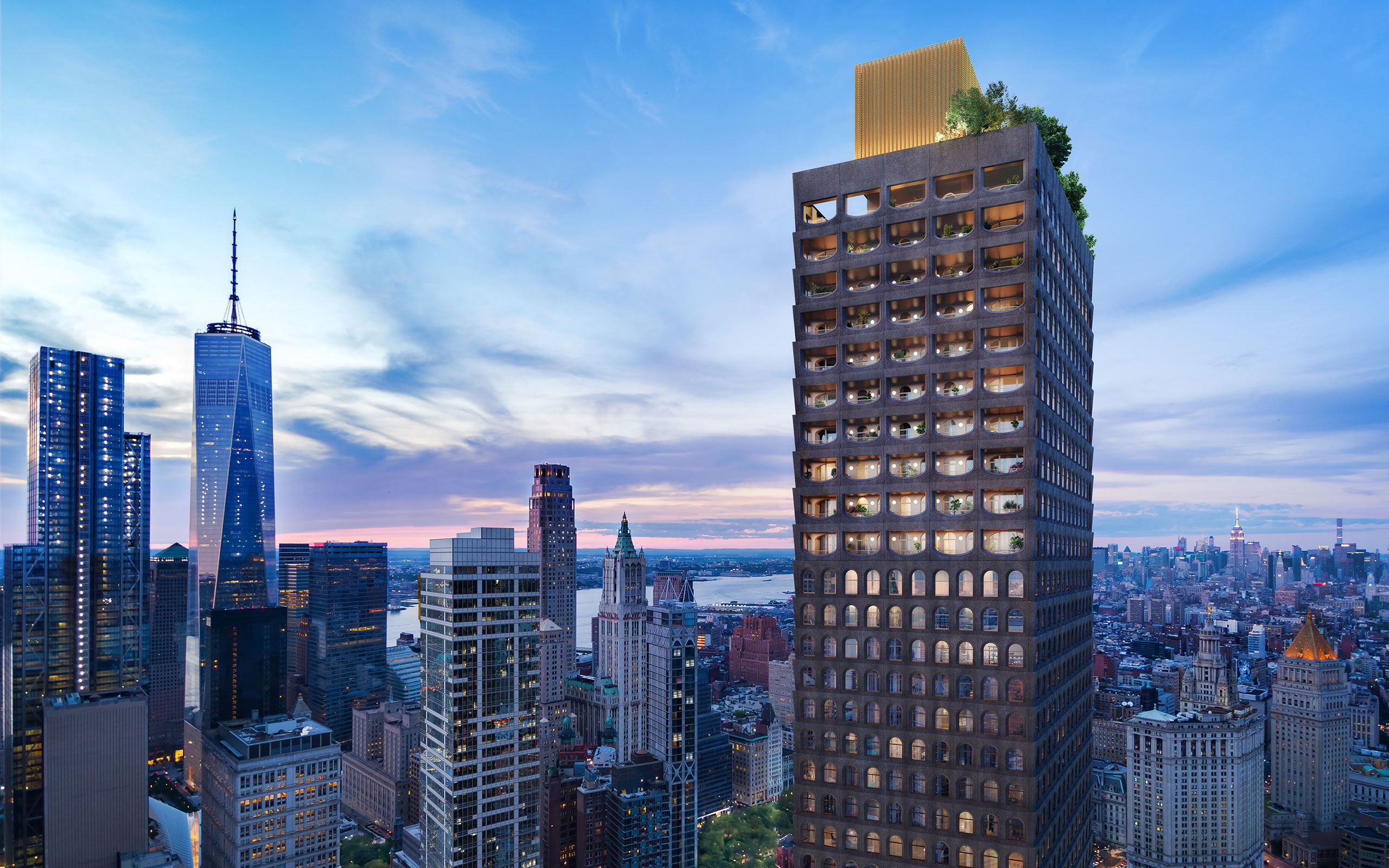 David Adjaye's First New York Condo Tower References History While Looking Forward
from Architectural Digest
by Hadley Keller
Ghana-born, London-based David Adjaye has made his mark across the globe. The architect has been knighted by Queen Elizabeth II, named one of TIME's 100 most influential people, and worked with London mayor Sadiq Khan to develop a plan for sustainable housing. His designs for the likes of Washington, D.C.'s National Museum of African American History and Culture and the Moscow School of Management in Skolkovo, Russia, have already become icons in their own right. He's dabbled in furniture design for Moroso and Knoll, with whom he also developed a line of textiles.
Now Adjaye is making a mark on one of the world's most iconic skylines with 130 William, a 66-story, 244-unit residential tower in lower Manhattan. The project, led by real estate developer Lightstone and executive architect Hill West Architects, marks Adjaye Associates's first foray into residential architecture in New York. It's one Adjaye hardly takes lightly. "The design for 130 William acknowledges the tower's location on one of the city's earliest streets," the architect explains. "I was inspired to craft a building that turns away from the commercial feel of glass and that instead celebrates New York's heritage of masonry architecture with a distinctive presence in Manhattan's skyline." The result, as shown in just-released renderings, is a completely unprecedented design that eschews the sleek steel tower in favor of a structure whose uniquely shaped, richly textured façade lends it an organic feel and blurs the line between indoors and out—an unheard-of concept in most of Manhattan. AD PRO caught up with Adjaye to hear more about the structure, which is slated for completion in 2020.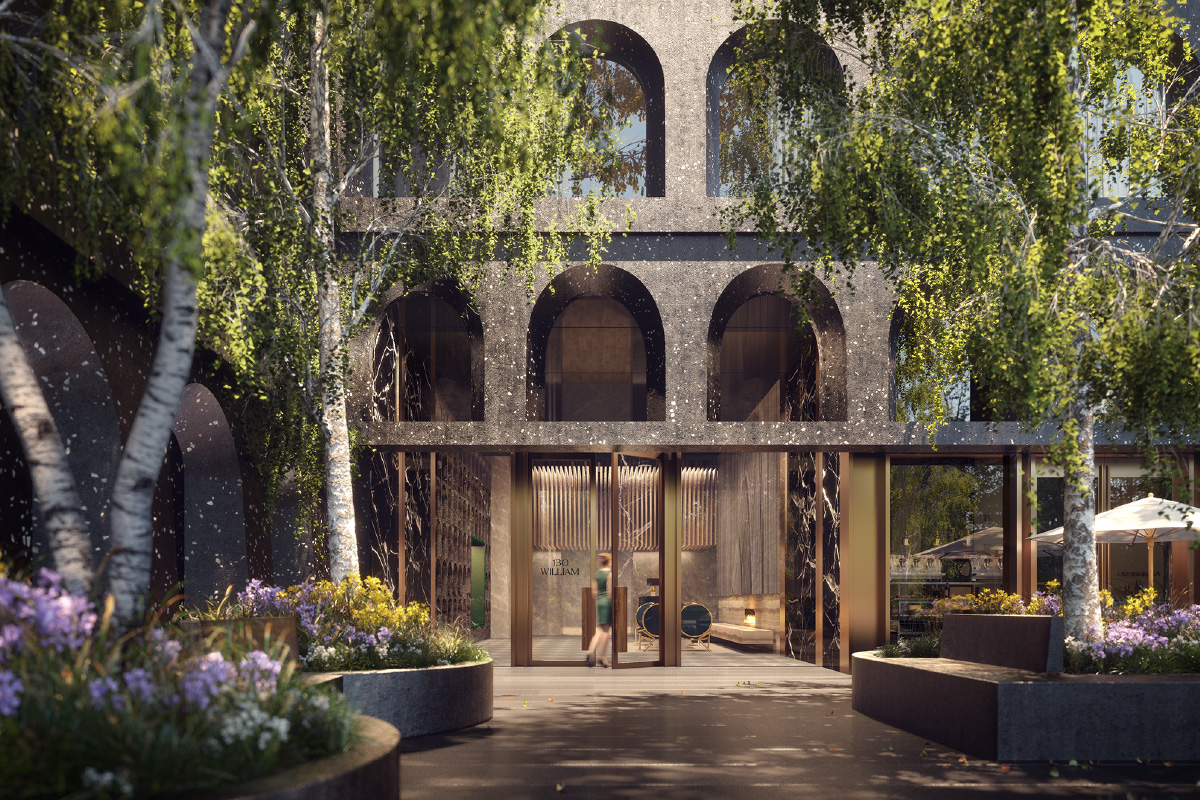 AD PRO: How did you approach a skyscraper differently than your other projects?
Sir David Adjaye: Every project I take on, regardless of location or scale, begins with the same process of inquiry: a rigorous investigation of context, with an aim to understand the narrative of that specific place and how that can be expanded upon or reinterpreted. For 130 William, the context is exceptionally important because, at nearly 800 feet tall, the tower will become part of New York's iconic skyline, which is a critical element of the city's identity. 130 William became an opportunity to create a unique and powerful silhouette, which felt particularly important at this moment in time when there's this new surge of high-rise buildings going up. Beyond that, the design really focused on balancing tremendous livability of the residences with its street-level presence to ensure it contributes as a meaningful piece of urban placemaking.
AD PRO: How does the surrounding neighborhood—both New York City largely and lower Manhattan, specifically—influence the building's design?
DA: Lower Manhattan is the birthplace of modern New York and was home to some of the city's first and most beloved early skyscrapers and iconic towers, like 70 Pine Street, 20 Exchange Place, and the Woolworth Building. I really wanted to celebrate this neighborhood's rich history, while recalibrating for today's context. 130 William's arches draw from the mercantile structures that once populated the area. The façade details are very much inspired by the stone and masonry craftsmanship of the historic buildings in the neighborhood. I wanted to see if there was a way to retain this sense of craft and ornament on a contemporary scale.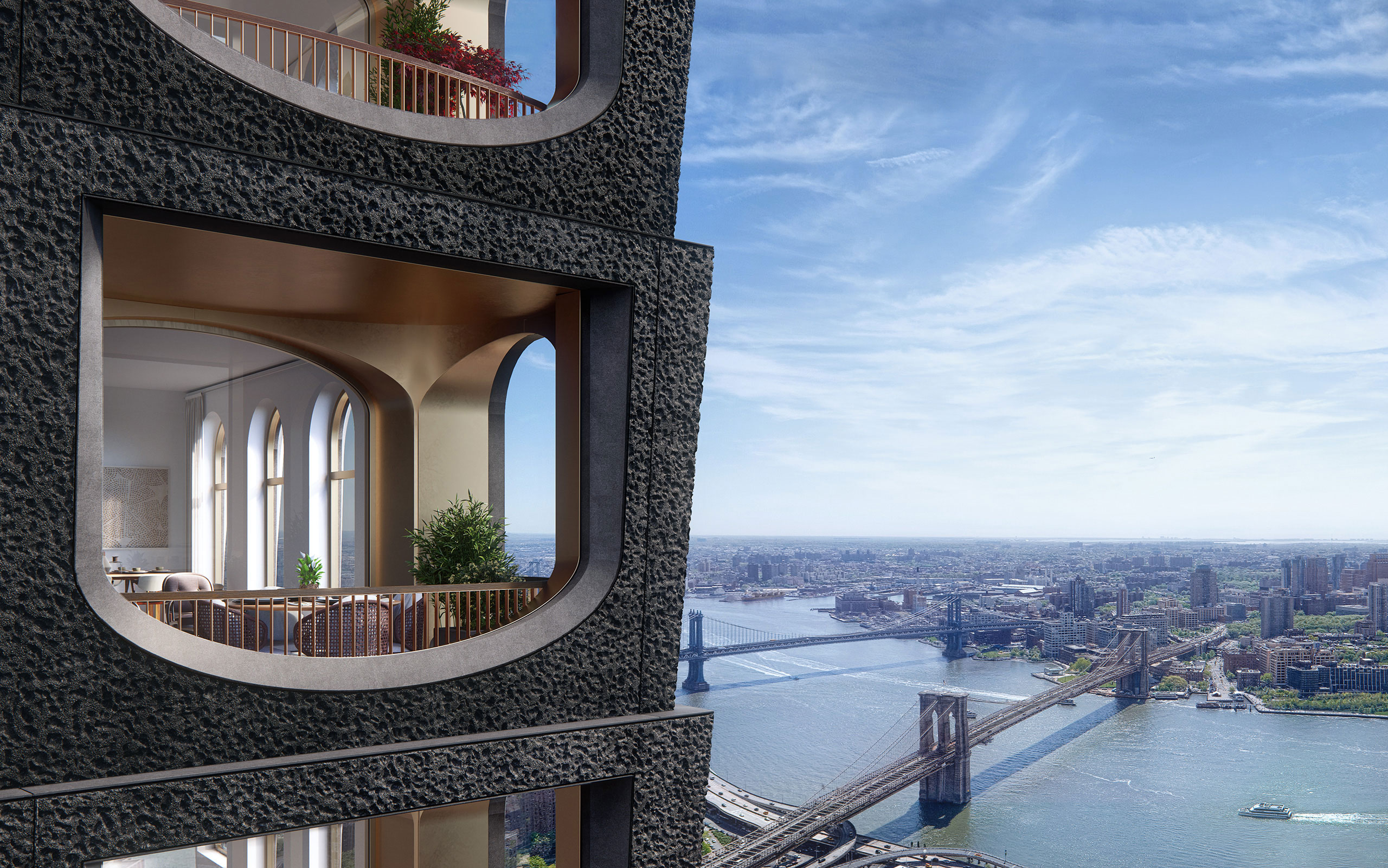 AD PRO: Some of your best-known projects are cultural institutions; how is a residential tower different?
DA: The tensions between private and public space are a natural condition of the city. I was particularly interested in exploring the balance between an engagement with and a retreat from urban life. The site includes a landscaped plaza park on William Street, which was conceived of as an urban room and is fundamental to the experience of the building. The Plaza's allée of trees creates a transitional moment between the bustle of the city and the respite of the private residences inside. It's a public gesture to the city that is a critical facet of what makes this building unique.
There's also a dynamic interplay between the interior and exterior of each apartment. For instance, many residences offer expansive outdoor loggias that span the length of the building. The city is mediated yet highly present, and moving between these conditions is fluid. The large-scale arched windows ensure that natural light floods the interiors, which for me is essential for crafting spaces that are truly warm and livable. This openness is not immediately apparent from looking at the façade, and it's this contrast that I find so exciting.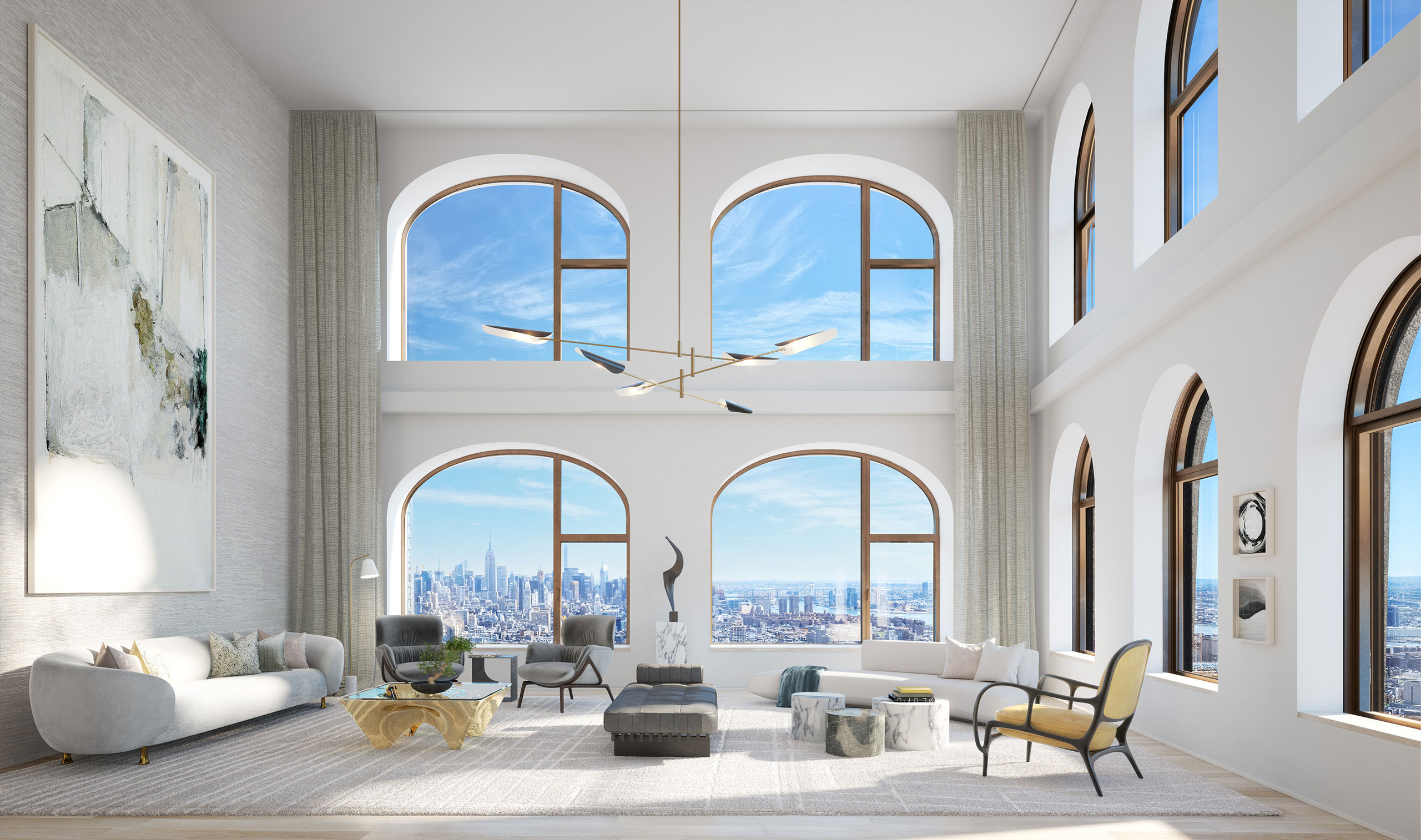 AD PRO: Can you talk about the materials used in the project and their significance?
DA: Contemporary buildings of this scale are typically glass, which tends to have a commercial feel that can lack depth and detail. With 130 William, I very much wanted to resist this current trend and instead expand on the beautifully crafted traditional masonry façades of the older buildings in this neighborhood. The tinted and textured concrete we designed is completely custom and incredibly sensorial, and the closer you get to it, the more those material details emerge. The interplay between the rough textures of the concrete and the precise and more delicate bronze detailing enhances that depth.
AD PRO: What are the New York buildings you admire most?
DA: I love the Met Breuer building—it is one of the world's great modernist buildings. The contrast between the insular presence of the exterior and the openness and intimacy of the interiors is remarkable.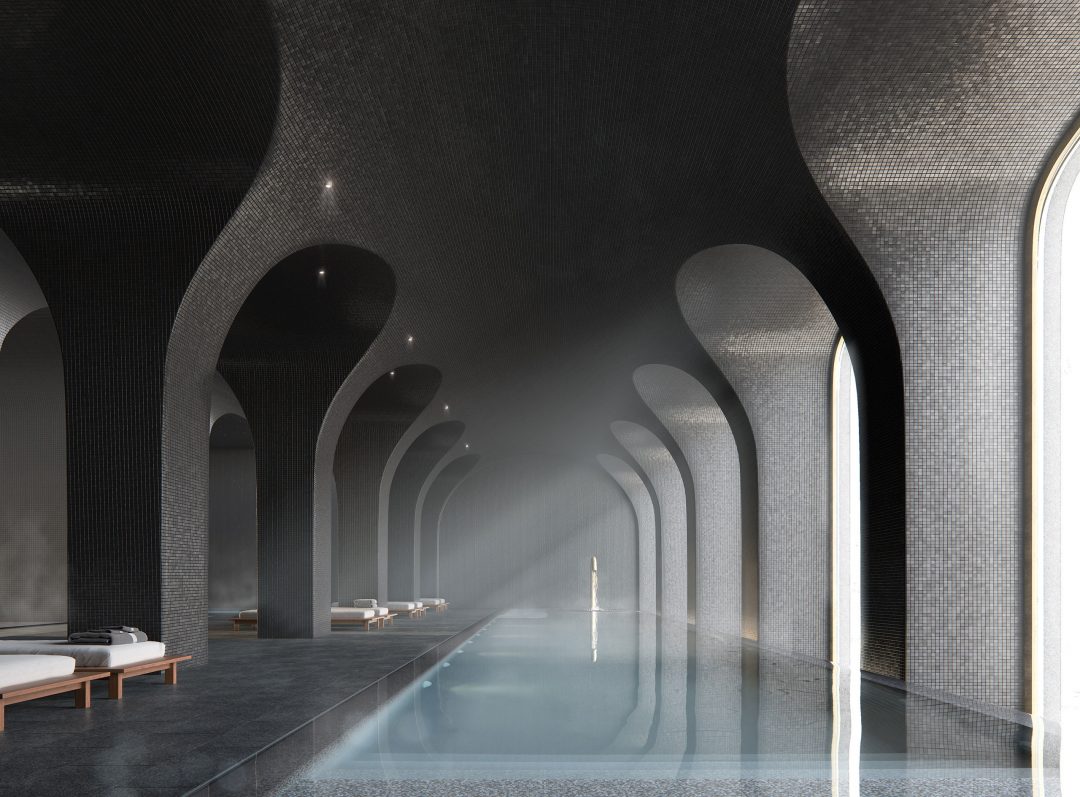 AD PRO: Some would say we're in the middle of a high-rise boom in NYC; how do you respond to being a part of that?
DA: We are in the midst of an urban population explosion globally. Cities urgently need to rethink how they will continue to increase density while remaining livable. Vertical living and high-rises are absolutely a part of the solution, but they need to be crafted intelligently. It was great to partner with Lightstone, because they understood that this building needed to be about new possibilities for organizing urban life. For 130 William, the amenity spaces in the building really speak to this idea. The building is conceived as its own little city: It starts with the plaza park experience and continues with unique naturally lit fitness and leisure spaces within the building. Additionally, features like the outdoor loggias—which celebrate the verticality of the building by opening up new views and relationships to the city that are not otherwise available—are also an example of ways in which we're expanding the model of vertical living.
---