David Adjaye and Aston Martin Design Homes and Special Edition Car for 130 William
from designboom
by Philip Stevens
sir david adjaye has teamed up with automotive manufacturer aston martin to create a collection of five exclusive homes available for purchase at '130 william' — the luxury residential development in new york. furthermore, the owners of these five residences will be able to travel in style in a special edition aston martin DBX custom-designed by adjaye himself. 'it was exciting to find an opportunity to collaborate with the aston martin team,' says the architect. 'the 130 william aston martin homes have been touched in a very particular way that merges our design sensibilities. together with the limited edition SUVs that come with these units, we've created a truly unique signature that blends our two disciplines.'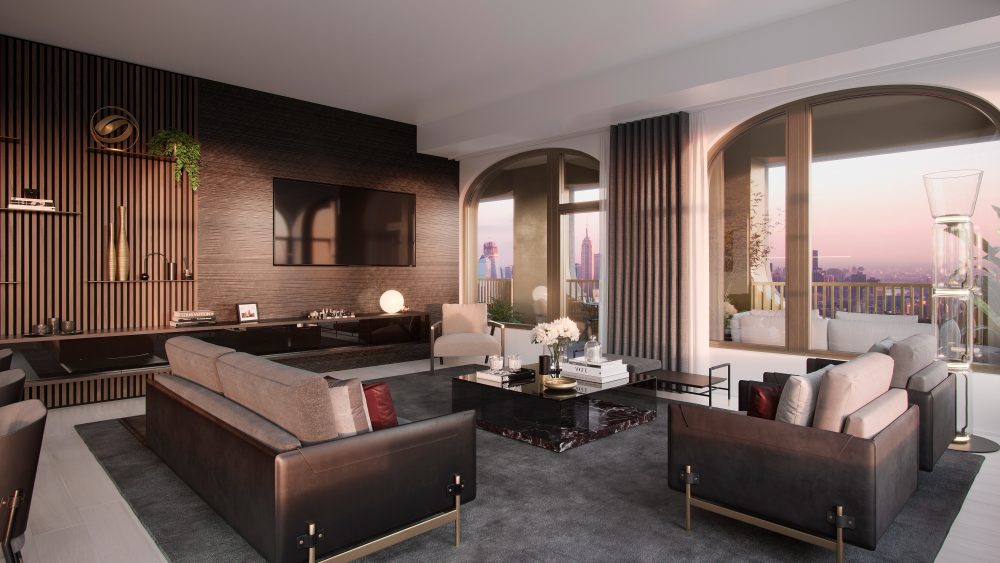 david adjaye is responsible for the holistic vision of '130 william', designing its exterior architecture, as well as all of the building's interiors which includes 242 residences, over 20,000 square feet of amenities, and a new plaza park. the building stands approximately 800 feet tall (244 meters), and at 66 stories makes a significant impact on the manhattan skyline. adjaye was inspired to craft a building that embraces new york's history of masonry architecture. another signature feature is the silhouette of rhythmic, large-scale arched windows that draw inspiration from the lofts that once populated the area.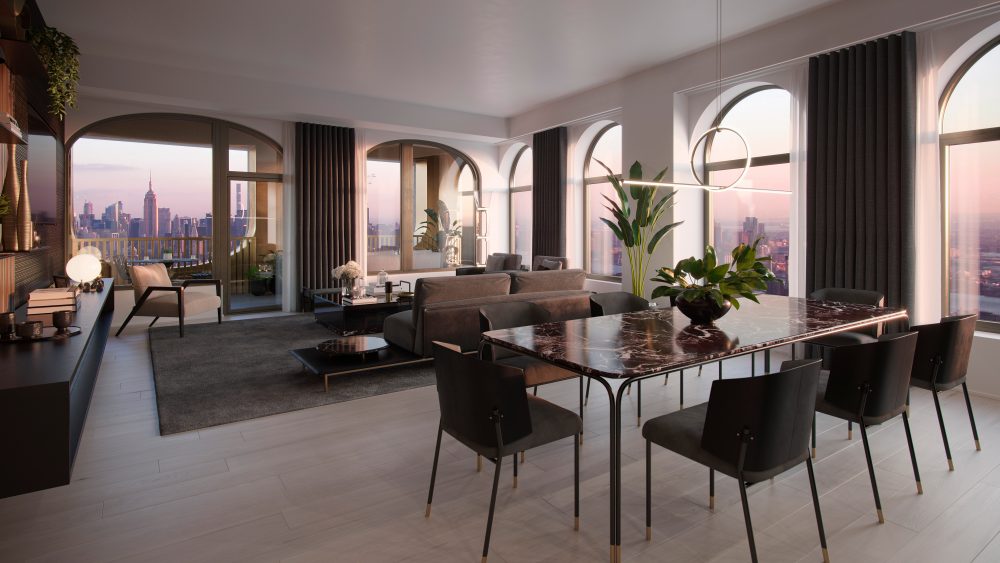 the five fully-furnished aston martin homes are located on the tower's 59th and 60th floors. each home features a private, expansive outdoor loggia spanning the entire length of residence with bespoke screens dividing the balconies into a series of distinct zones for dining and relaxing. when residents first step off the elevator, they will see interior design elements featuring aston martin's signature crosshatch pattern in a bronze finish. beneath the bronze detailing is wallpaper designed by adjaye associates, while a bespoke smoked glass mirror created by aston martin design reflects the skyline view in a distinctive arched form.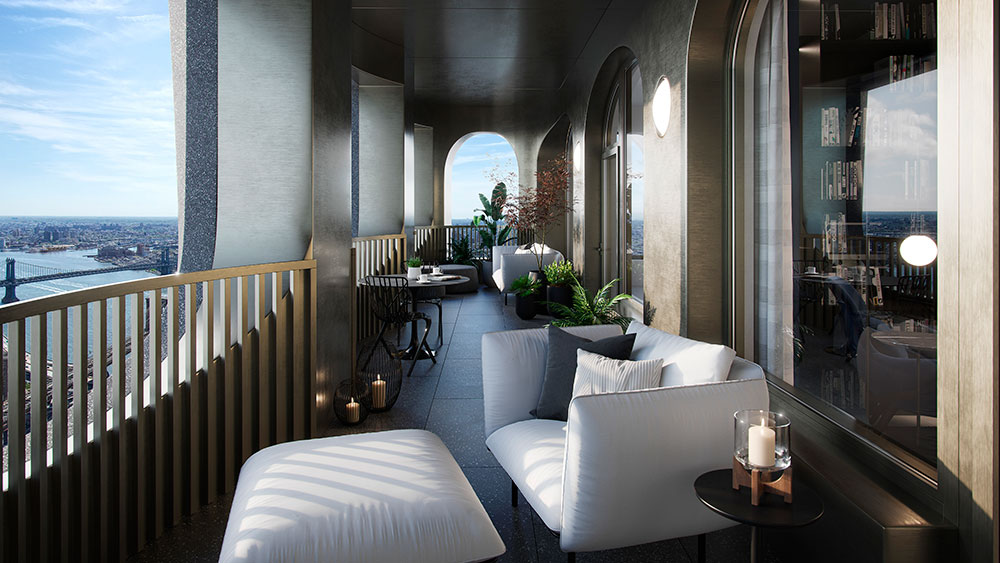 each home has a grand living and dining room, featuring furnishings, textiles and fittings curated by marek reichman, aston martin chief creative officer, and david adjaye. the living room includes sofas and armchairs that combine elements of leather, metal, and fabric — evoking the richly crafted and tactile qualities of aston martin's automotive interiors. the living room provides direct access to the outdoor loggia, while the dining room connects to an open plan kitchen.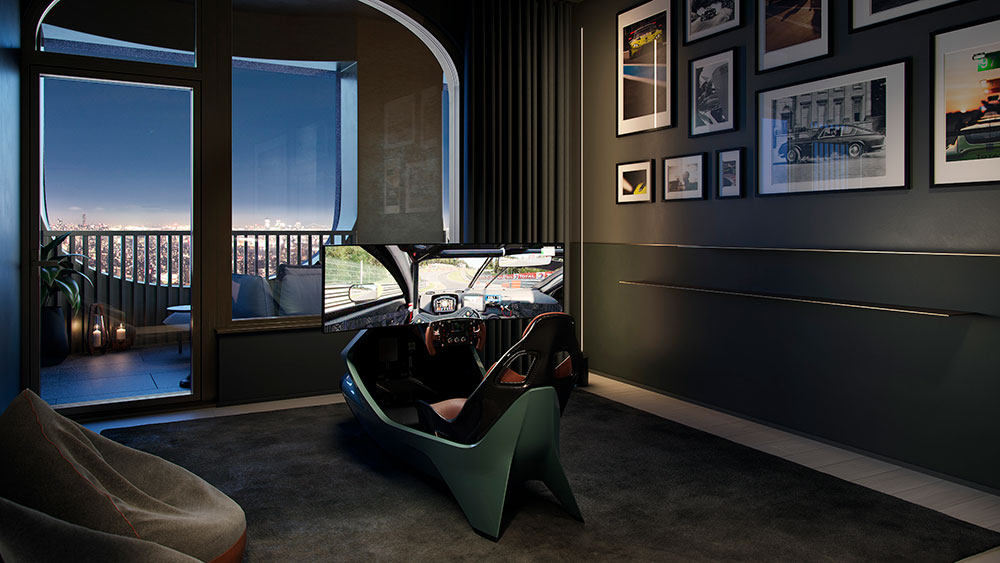 in the two- and three-bedroom homes, buyers have the option of customizing one of the rooms into a racing simulator, an office and library, or a bedroom. the simulator room was developed in collaboration with curv racing simulators, a british technology company founded by darren turner — a three-time class winner of the 24 hours of le mans for aston martin.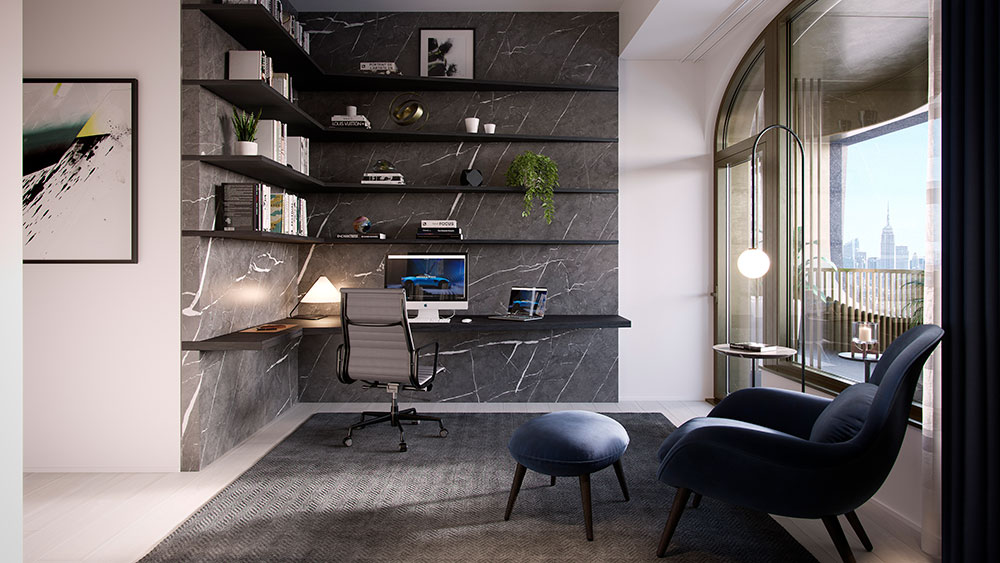 alternatively, one of the rooms could be turned into a private office and library space designed for working and relaxing. the office provides generous storage and display spaces, including black wood shelves and cabinets with smoked glass placed alongside textured salvatori marble walls. elsewhere, bathrooms include textured italian salvtori marble throughout. in the master bathroom, a salvatori solid carved marble soaking tub and carved marble double vanity sinks are paired with a spacious walk-in shower and private water closet.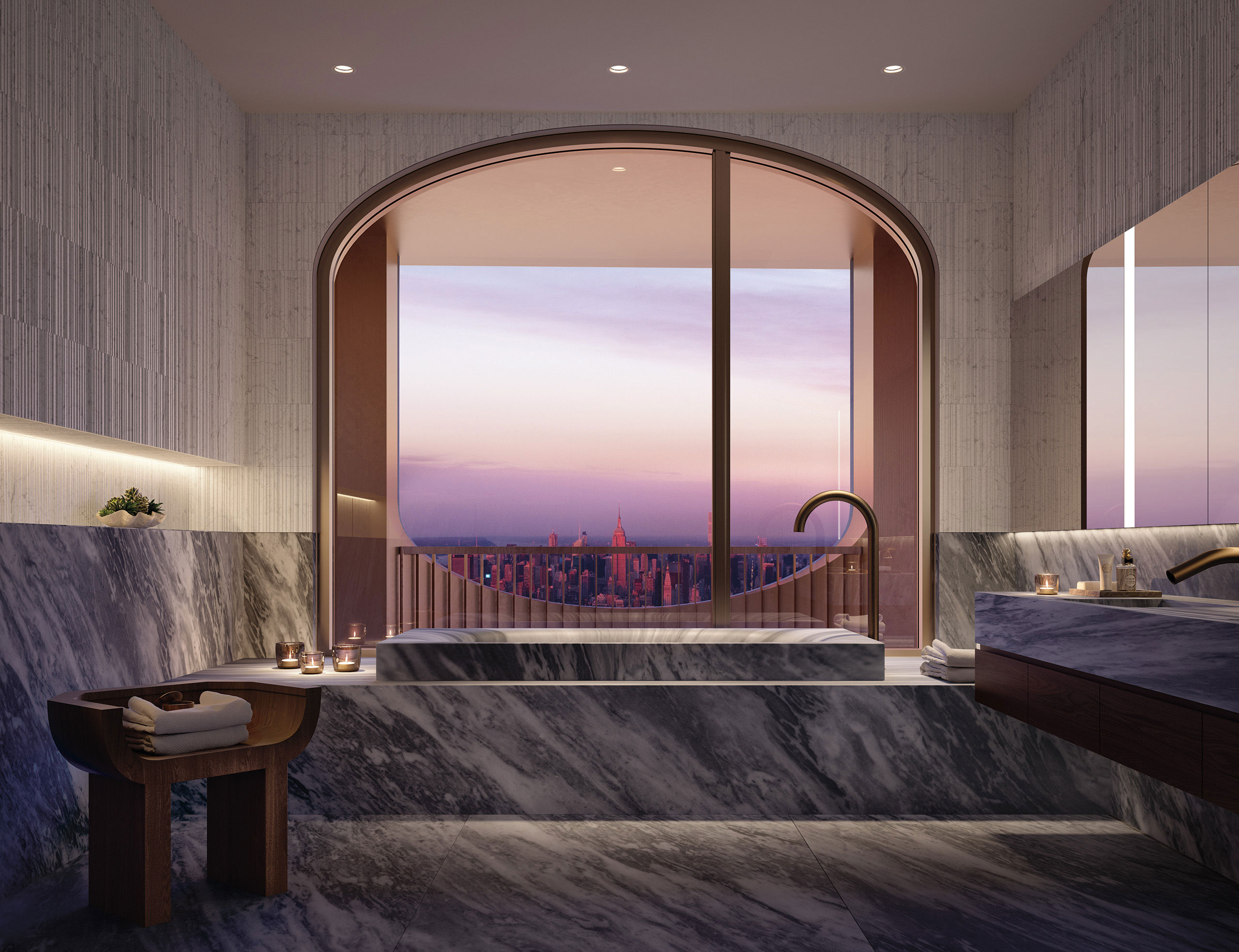 meanwhile, the 130 william adjaye special edition aston martin DBX marks the first time that the automotive manufacturer has collaborated with an architect on the custom fit out of one of its signature vehicles. evoking the materials, textures, and atmosphere of '130 william', adjaye worked with aston martin to ensure the SUV's highly crafted interiors and custom paintwork have a strong synergy with the building's architecture.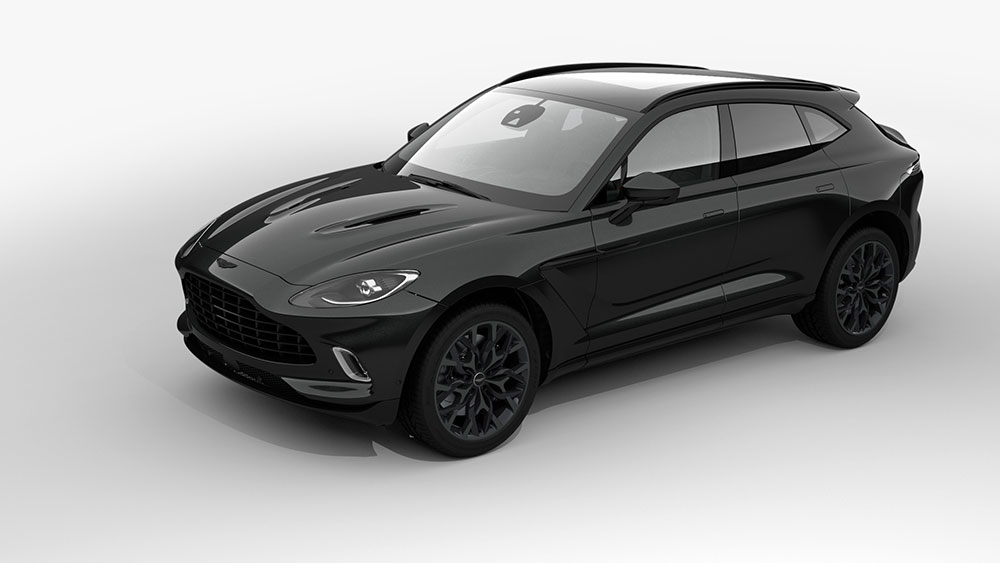 the DBX special edition marks the debut of real stone accents, with grey 'pietra d'avola' marble inlays matched with satin walnut wood. aston martin's traditional hand-stitched leather includes 'parliament green' trim and steering wheel from aston martin's in-house customization service, 'Q by aston martin'. the interior includes carved solid walnut trim, with parliament green leatherwork and details in bronze, black anodized aluminum and real stone.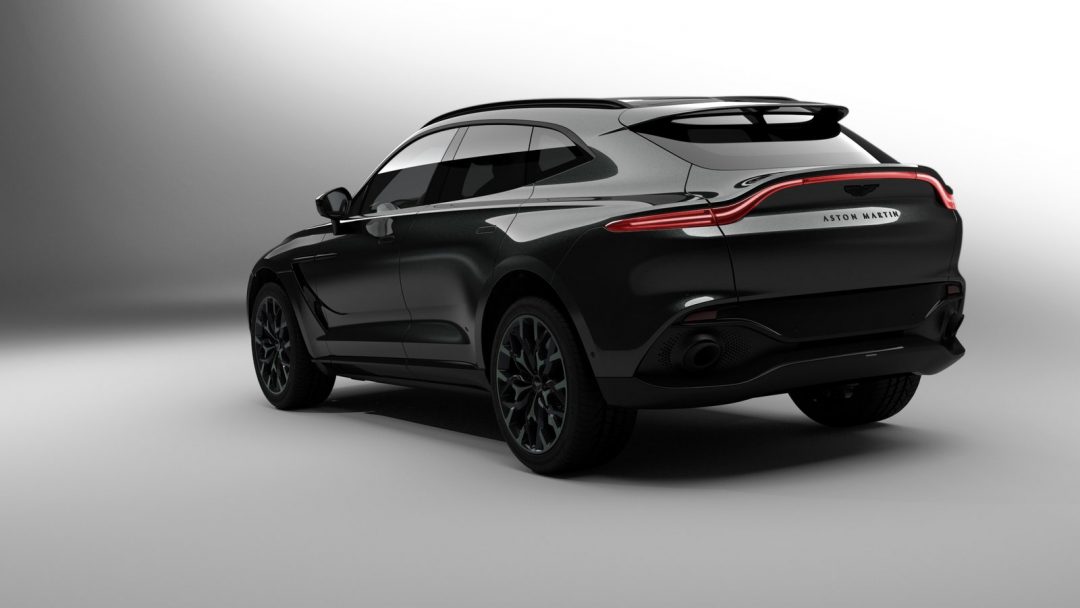 'this is a fascinating project for the aston martin design team to work on and a great opportunity to collaborate with sir david,' says aston martin chief creative officer, marek reichman. 'it is our first real estate project in new york city but our second collaboration in real estate design after the aston martin residences in miami. we can apply what we have learnt in miami and also bring our unique automotive design skills to these beautiful luxury homes.'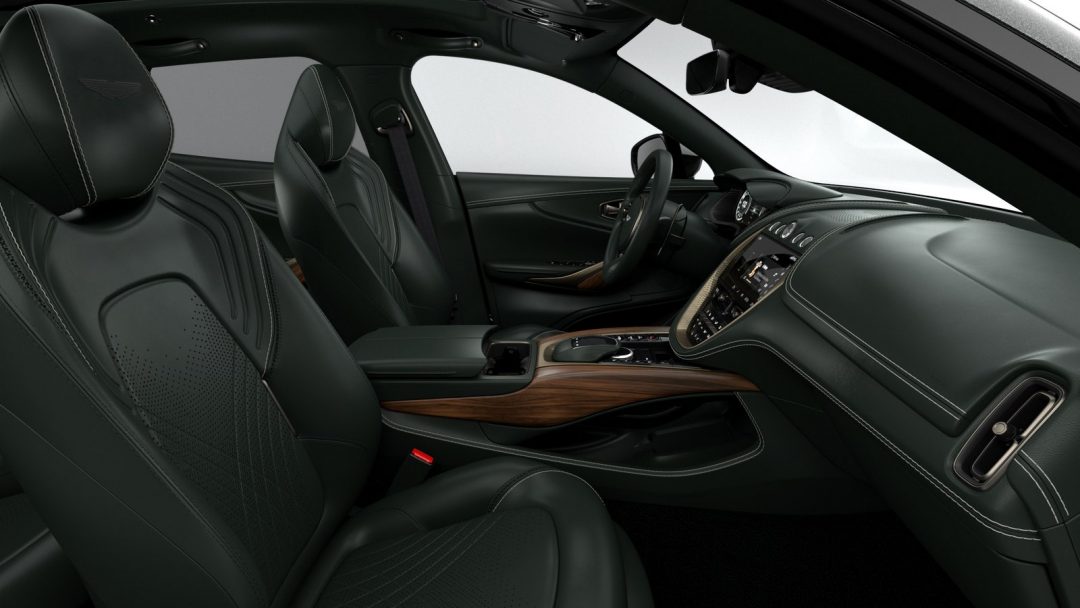 the five homes include two penthouses, priced at $11,500,000 and $10,500,000, and three loggia residences priced from $3,985,000, $5,985,000, and $10,000,000. '130 william is an architectural triumph and in developing this collaboration, we knew we had to offer something truly unique,' says scott j. avram, senior vice president of development at lightstone — the developer behind the project. 'the partnership between david adjaye, aston martin and lightstone, will bring to market homes unlike anything seen before in new york city. the addition of the 130 william adjaye special edition aston martin DBX is truly noteworthy and a must have for any true automobile enthusiast.'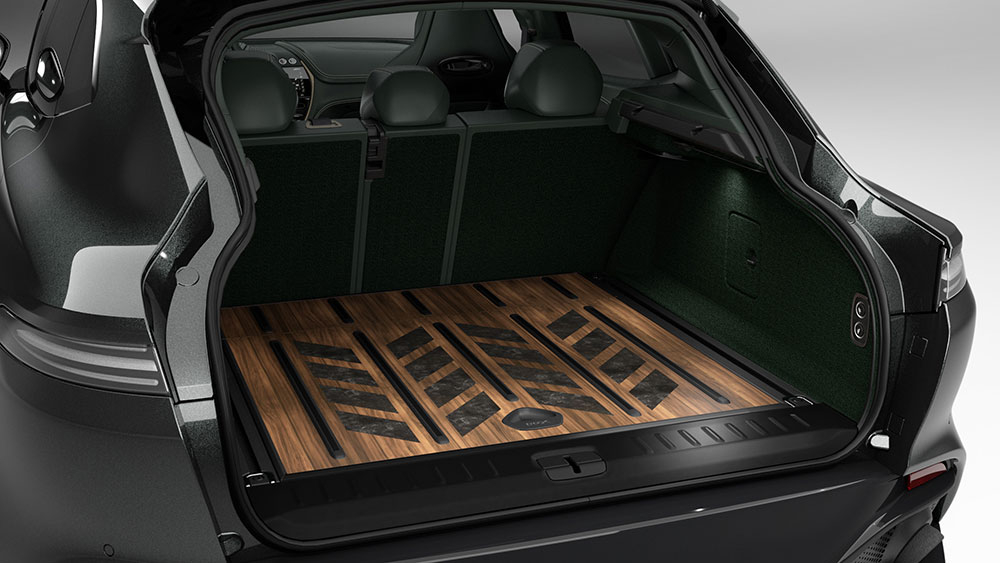 '130 william' offers 20,000 square feet of lifestyle and wellness amenities, including an infinity-edge swimming pool, cold and hot plunge pools, dry sauna and massage rooms as well as a fitness center and spa with cool-down terrace, yoga studio, and basketball court. residents will also enjoy a private IMAX movie theater, golf simulator, resident lounge, club and game room, chef's catering kitchen with a private dining area, children's activity center, pet spa, outdoor terraces, and private rooftop observation deck located at the top of the building. see designboom's previous coverage of the project here, with more details available on the development's official website.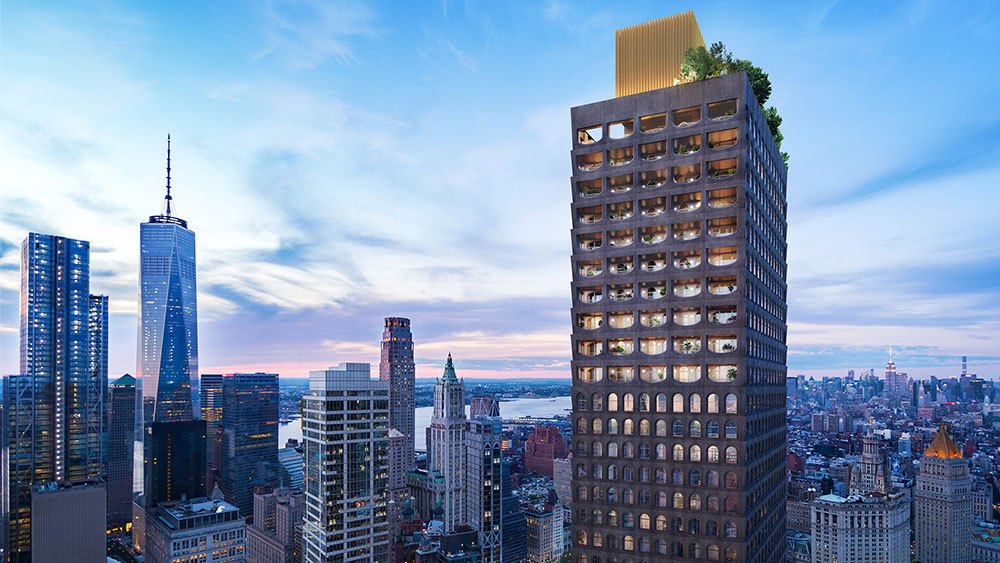 project info:
name: 130 william
architect: adjaye associates in collaboration with local architect hill west
developer: lightstone
location: new york, NY
---